New Designs
5 DOWN GRAPE CONTAINER – "Kisch Chimney Flow and Kisch Chamber Flow"
Container Solutions has designed a new, 16" X 24"container for Pandol's new 2 pound table grape package known as the Quick Rinse Cube™
The new container design uses the Smart Mandrel patented technology to form a column in the end wall of a Bliss container.
The 16"X24", or common footprint, has inherent airflow restrictions when stacked on a pallet in its 5 per layer configuration.
The new Kisch Containers have been designed to create a chimney or chamber between the boxes, where air can be circulated freely or unrestricted on its path through the boxes. These containers will facilitate the chilling of all fruit and vegetables where air flow is important.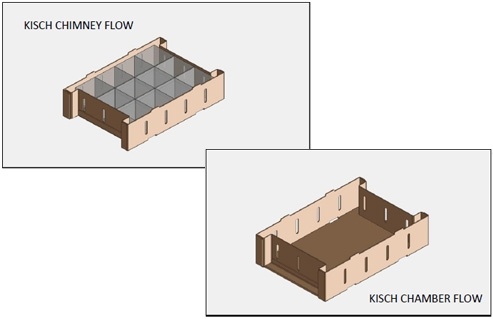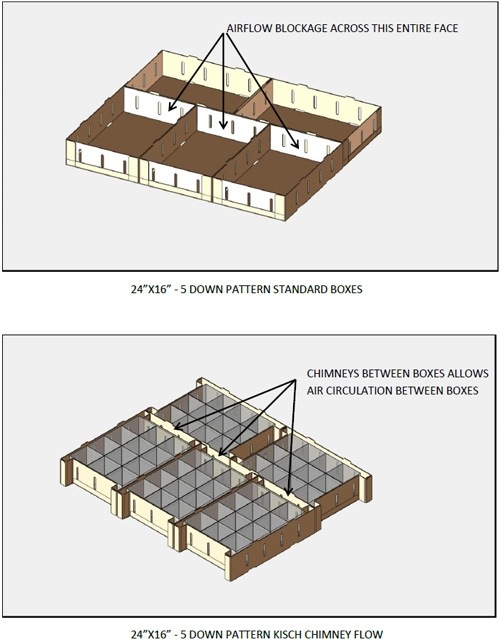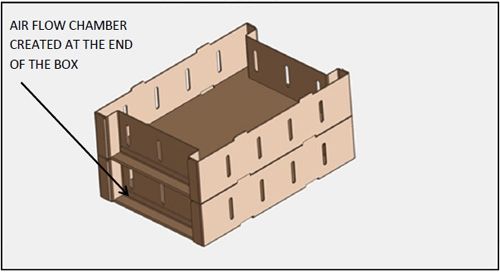 KISCH CHAMBER FLOW
BLISS COMBO CONTAINER
The standard box used in the Stone Fruit industry in the U.S.A. is the tri-laminated end, Bliss box. This box requires a separate machine and operation to laminate the ends of the Bliss box, before formation on a Bliss forming machine.
Container Solutions, by utilizing the combination of its patented Ergonomic Hopper and Laminating module attached to a standard Bliss Former, has the capability of marrying the two technologies and creating a tri-laminated end Bliss box in one operation.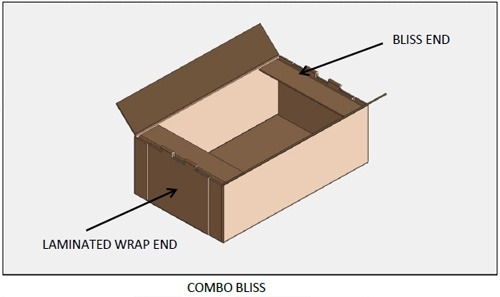 « Back