Ergonomic Solutions Features & Benefits
NO FEED PLATFORMS REQUIRED.

MAXIMIZE EFFICIENCIES THROUGH CORRECT ERGONOMICS AND LOGISTICS.
GUARDING COMPLIANT WITH OSHA REGULATIONS.

ELECTRICALLY INTERLOCKED.
SAFE ACCESS FOR MAINTENANCE AND ADJUSTMENT.
BLANK CONTROLLED FROM PICK TO FORMING POSITION.

CONSISTANT GLUE APPLICATION.
ABILITY TO FEED WARPED BOARD
ABILITY TO POSITION INK JET PRINTER HEADS FOR APPLICATION OF PRODUCTION DATA ON ALL FACES OF BOX SIMULTANEOUSLY.
SAVE ON LABEL COSTS
ELIMINATE BOX TURNS, STREAMLINE PRODUCT FLOW
DRIVE INCORPORATED INTO EXISTING VERTICAL MACHINE POWER TRAIN.

NO COMPLEX ELECTRONIC SYNCHRONIZATION.
OUTPUT SPEEDS ARE SAME AS EXISTING VERTICAL FORMING MACHINE
REPLACES HIGH MAINTENANCE PARTS ON EXISTING VERTICAL MACHINE.

COMPLETE DRIVE, SYSTEM WITH ALL SPROCKETS, GEARS AND LEVERS REMOVED.
CONCERTINA BLANK PICK SYSTEM REMOVED.
FEEDWHEELS REMOVED.
BLOWER AND VACUUM VALVE SYSTEM REMOVED.
SIMPLE INSTALLATION.

INSTALLATION, COMMISSIONING AND TRAINING IN 3 DAYS EITHER ON SITE OR AT OUR FACTORY IN PASO ROBLES, CALIFORNIA.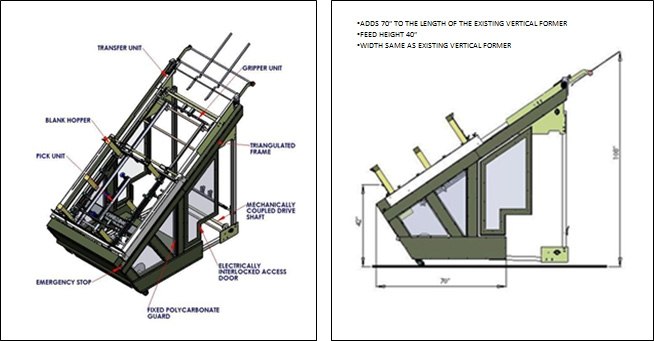 « Back